Wing Chun kicking practice.
Learning to kick in Wing Chun Kung Fu can be a bit awkward at first. Whilst all the wing chun kicks are quite simple learning to do them correctly takes a bit of practice.
I have shown you all a simple exercise from my Sifu (Grandmaster Jim Fung) to help bring your knee up on your centreline and try to not shift your weight. Here is another exercise that was used by Sigung Chu Shong Tin to train his kicking. Thanks to Nima for sharing this.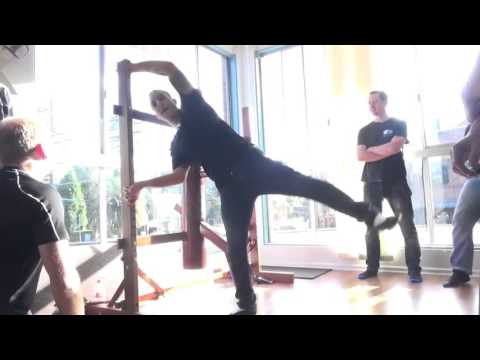 Putting it all together
If you don't have a wooden dummy don't panic there are many other ways to practice wing chun kicking:
Spend time practicing Siu Nim Tao form (it really does teach you to kick). Focus on feeling your stance getting yourself balanced and settled. Imagine your spine reaching down for the floor (create your 3rd leg)
Focus your legs, knees to a point in front of your centreline.
If you are able to practice Chum Kiu form focus on relaxing and rotating the joints properly to move the kicking leg.
Practice kicking slowly onto a 3 section bag, focus on balance, correct movement and coordination.
Practice all your kicks in the air.